Federal Polytechnic Oko HND Admission For 2020/2021 Session
Federal Polytechnic Oko HND Full-time and Part-time programme Admission for the 2020/2021 Academic session has been announced. Applications are invited from suitably qualified candidates for admission into the Federal Polytechnic, Oko Higher National Diploma (HND) Regular, Weekend and Evening programmes for the 2020/2021 academic session.
AVAILABLE COURSES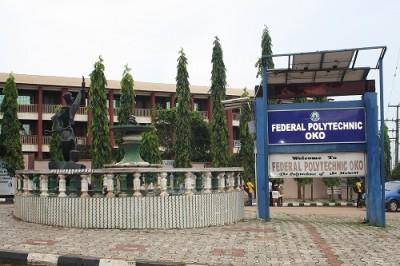 A. SCHOOL OF ARTS, DESIGN & PRINTING TECHNOLOGY
a. Fine & Applied Arts with options in:
i.Ceramics
ii. Graphics
iii.Painting
iv. Sculpture
b. Fashion Design & Clothing Technology
c. Printing Technology.
B. SCHOOL OF BUSINESS STUDIES
a. Business Administration & Management
b. Marketing
c. Public Administration
d. Office Technology & Management
C. SCHOOL OF ENGINEERING TECHNOLOGY
a. Civil Engineering
b. Computer Engineering
c. Electrical/Electronics Engineering
D. SCHOOL OF ENVIRONMENTAL DESIGN & TECHNOLOGY
a. Architectural Technology
b. Building Technology
c. Estate Management
d. Quantity Surveying
e. Urban & Regional Planning
f. Surveying & Geo-Informatics
E. SCHOOL OF FINANCIAL STUDIES
a. Accountancy
b. Banking & Finance
F. SCHOOL OF INFORMATION TECHNOLOGY
a. Library & Information Science
b. Mass Communication
G. SCHOOL OF APPLIED SCIENCE & TECHNOLOGY
a. Computer Science
b. Maths/Statistics
c. Home & Rural Economics
d. Science Laboratory Technology with options in:
i.Biology
ii.Biology/Microbiology
iii.Chemistry
iv.Microbiology
v.Physics with Electronics
ADMISSION REQUIREMENTS
Candidates must possess:
The basic requirements for admission to the ND programmes of the course they wish to pursue at the Higher National Diploma level as contained in the NBTE revised entry requirements for ND programmes in Nigerian Polytechnics & Monotechnics.
National Diploma, with a minimum of Lower Credit in the relevant programmes, obtained from Federal Polytechnic, Oko or an equivalent institution accredited by the National Board for Technical Education.
Evidence of a minimum of one (1) year post-ND cognate work experience. In exceptional cases, ND diplomats with a pass (CGPA of 2.00-2.49) and industrial experience of not less than two (2) years in the specific field may be considered for admission into the HND programme.
METHOD OF APPLICATION
Applications cost: Cost is Eight Thousand Naira (N8000)
Kindly log on to http://portal.federalpolyoko.edu.ng/screeningapplication.aspx to generate an invoice. Then proceed to payment and complete your application online.
Candidates should visit the Polytechnic website: federalpolyoko.edu.ng
Under Admissions, click on Online Application Forms.
On the Application Page, select the Programme (HND – Regular Screening Application/Weekend Screening Application as the case may be) and enter your Phone Number.
Click the Sign In button
On the Generate Payment Invoice page, fill in your details ACCURATELY and click the Submit button (NOTE: THIS INVOICE IS FREE OF CHARGE).
Select your payment mode: Make payment of Eight Thousand Naira (N8, 000) only using the generate Remita Retrieval Reference Number at any bank or simply pay with your bank ATM Card.
Return to the Polytechnic website (federalpolyoko.edu.ng) to complete and submit the Online Application Form. Please, review your information before submitting your application online.
Print your Acknowledgement Slip
Submit photocopies of your credentials to the Admissions Office (Federal Polytechnic, Oko) for verification.
Await response from the Polytechnic.
Applicants who are not ND graduates of Federal Polytechnic, Oko, are to apply to their institutions for forwarding of their Academic Transcripts to the Registrar (Admissions), quoting the Department the candidate is applying for. Applications from such applicants will not be processed until the transcripts are received.
CLOSING DATE
Not Specified.