TASUED Updated E-test Time-Table, 2019/2020
This is to inform the general public especially the 100 -400 level undergraduate students of the Tai -Solarin University of Education that the management has approved and released an update to E-test timetable earlier released for the second semester.
All concerned students are to take note of these changes and act accordingly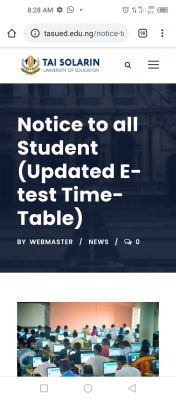 Below is the updated time table
COSIT, COVTED, COHUM, COSMAS & COSPED
DATE COURSE CODE
MON 08/02/2021 EDU421, EDU422
TUE 09/02/2021 ENT421, VOLS 412-410
WED 10/02/2021 EDU 321, EDU 323(c/o)
THUR 11/02/2021 GNS221, EDU 222
MON 15/02/2021 ENT321, EDU 322 (c/o)
TUE 16/02/2021 EDU121, EDU122
WED 17/02/2021 GNS121, ENT121
THUR 18/02/2021 ENT 221, EDU 221
Please note that e- test starts by 8.00am, all students are advised to follow the time allotted for their Colleges strictly.
COVTED 8.00am- 9.00am, COSMAS 9.00am- 10am, COSIT 10.00am-11.00am, COSPED 11.00am- 12noon, COHUM 12noon- 1.00pm.
Thank you